'
[[Britney Spears|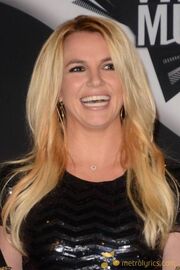 ]]'
Britney Spears
doesn't go around shaving her hair, doing drugs, yelling at cats, eating rose petals, and throwing herself at all manner of men in her spare time.
Celebdom's onetime banshee is veritably a homemaker.
"My house is very traditional. And I love 'shabby chic.' It's a very homey-cozy vibe," Brit tells Brit mag Stylist. "We spend a lot of time in the kitchen actually; maybe my kids [Sean and Jayden Federline] will be doing their homework or that kind of thing when they get home from school. I love my kitchen."
Ad blocker interference detected!
Wikia is a free-to-use site that makes money from advertising. We have a modified experience for viewers using ad blockers

Wikia is not accessible if you've made further modifications. Remove the custom ad blocker rule(s) and the page will load as expected.