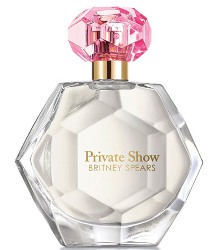 Private Show
is a fragrance created by Britney Spears, and set to be released exclusively at Kohls on July 25.
It is an "uplifting, sexy scent" according to Spears.
Background
Edit
"The new fragrance is really beautiful" says Spears. "I was inspired by Hawaii and by soft, soothing smells that has a pinch of lavender".
Spears's mother reportedly loves the fragrance and a lot of her 'girl friends' do to.
Spears officially unveiled the fragrance on June 17 through Twitter, "I'm so excited to introduce you all to my new fragrance, Private Show". [1]
In 2016, Britney invited a girl into the studio to work on something 'totally different' and have a really cool song for the fragrance, and they titled it Private Show. The fragrance and song will go hand-in-hand.
References
Edit
Ad blocker interference detected!
Wikia is a free-to-use site that makes money from advertising. We have a modified experience for viewers using ad blockers

Wikia is not accessible if you've made further modifications. Remove the custom ad blocker rule(s) and the page will load as expected.