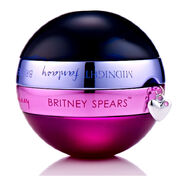 Fantasy Twist is a fragrance by Britney Spears and Elizabeth Arden. It was released in September of 2012.
The tagline is "Choose Your Fantasy."
The perfume is a combination of some of Britney's most popular fragrances Fantasy and Midnight Fantasy.
It is a sphere shaped bottle that breaks in half leaving one side a pink bottle which is Fantasy and one side a dark blue bottle that is Midnight Fantasy.
The bottle is pink and blue (Britney's favorite colors).
The pink bottle "Fantasy" has notes of: red lychee, golden quince, kiwi, cupcake accord, jasmine petals, white chocolate, orchid, musk, orris root and sensual woods.
It is initially smelling fruity, then very sweet, showing the promised smells of cupcake and white chocolate with a very light floral smell.
The dark blue bottle "Midnight Fantasy" is classified as a sensual, sweet, romantic, fruity, feminine and flowery fragrance. It has notes of: black cherries, plum, orchid, freesia, musk, and amber.
The sizes of Fantasy Twist are be 1.0 oz 1.7 oz 3.4 oz.
Britney told People magazine:
"With Fantasy Twist, I wanted to combine two of my favorite fragrances into a sophisticated bottle, giving my fans the power to choose the scent they desire at any given moment."
Ad blocker interference detected!
Wikia is a free-to-use site that makes money from advertising. We have a modified experience for viewers using ad blockers

Wikia is not accessible if you've made further modifications. Remove the custom ad blocker rule(s) and the page will load as expected.